St Marys Aghagallon GAC – Guide to Registration 2022
Foireann is the GAA games management system. Many of us are familiar from last year. It will be used for all GAA / Camogie / LGFA membership registration for 2022.
If you registered online last year or if you were part of 'return to play' it will look familiar. You can now log in and complete registration for 2022. Link below… https://www.foireann.ie/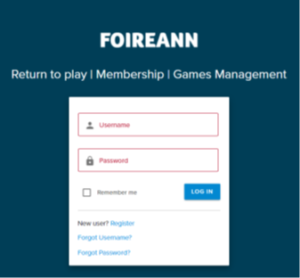 If you were not involved in playing last year or if you are registering yourself or your child for the first time you will need to set up a Foireann account. Click on this link to show you how to set up Foireann. https://gmssupport.zendesk.com/hc/engb/articles/360018872740-SCREENCAST-
Accessing-Foireann
We understand that you may be the parent of a member, and not registering yourself. That is fine, just follow the steps that work for your household. Obviously we would love everyone to be a member.
Your own details are collected in your Profile section. This is also where you select your club. Co Antrim, St Mary's, Aghagallon. Beware there is more than one St Mary's and we don't want you having to go to Ahoghill or Rasharkin for training!
In the family section you can insert the rest of your family group. Use the Family tab to help guide inputting your family details. St Marys Aghagallon GAC – Guide to Registration 2022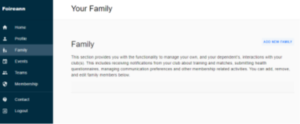 Once you have everyone's details submitted, please move to the Membership tab where you can select the membership package that best suits your household.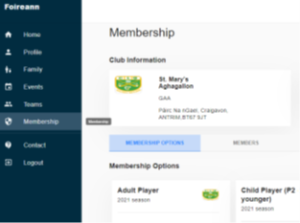 You will see all the available membership options. If you are registering a family with GAA and you are confirming individual family members, please ensure you select 'non player' for girls aged >12 and we will register them individuals directly with LGFA at this end.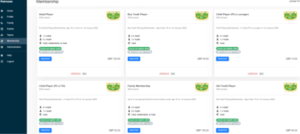 Please select your preferred option and put in the names of all those who you wish to include.
Once you have named everyone to be included you will be asked to select your preferred payment option.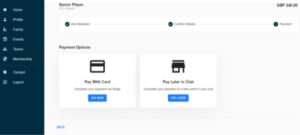 If you wish to make one payment to cover all your membership for 2022, please select 'Pay with Card'. You will be taken to the payment page.
For more senior player or family memberships you can choose to pay through six instalments, or directly to the club.
For non-playing adults who to do not wish to avail of online payments, please select 'Pay Later in Club'. Your membership will be marked as confirmed on receipt of payment at the club.
When complete you will receive an email receipt and to confirm your registration for 2022. We would like to      thank you for working through the process. It puts members in control of their own data which can be updated at any time and means that playing members can also be allocated to teams for communications regarding training / matches and other relevant updates.
For queries or issues please email me derryash08@btinternet.com or contact any committee member.
Is mise
James Kelly
Registrar 2022
St Mary's GAC
Aghagallon
By ronandevlin
Mon 17th Jan